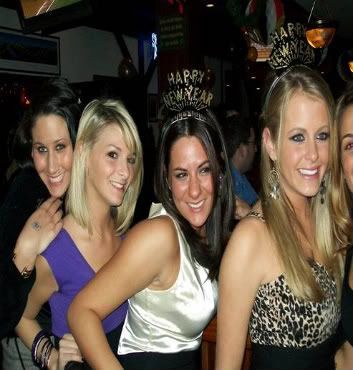 Warning:
It's about that time!
You know what I'm talking about.
Now that Thanksgiving is over, you are now about to get the invites, text messages, and Facebook invites for, the all important:
NEW YEARS EVE PARTY(s).
Most of you know exactly what I mean.
The ever so important "tickets are going fast", "this event will sell out soon", "get your tickets through me, use my link", "I'll deliver the hard tickets to you personally". WACKNESS!
Listen, every New Years Eve event is all the same, don't let the Craigs List hustlers or the Facebook Z-listers tell you anything different.
They will promote the same lame ass nightclub you were just partying at the night before, only to now tell you that the cost is $150, and the party will end at 2am (just like every other night).
The two major draws that they'll use to get you to buy tickets will be:
1. an open bar (either until midnight or until 1:45am)
2. some eurotrash house music DJ whom you have never heard of
If you really don't care about the cost of the tickets, and you would like to ring in the new year with the San Fernando valley peeps, then pay no attention to what I'm saying.
However, if random house music, over priced tickets, fat chicks named Melissa, who like to smoke Camel cigarettes unfiltered, along with guys named Phil, who usually likes to play Dungeons & Dragons on Saturday nights and watch WWE highlights...are totally not your scene...then don't buy into the hype.
Hey fellas, most of you are just better off spending that $100+ at your local "rub & tug" aka Asian Massage Parlors. Because lets face it, you just want to get laid at the end of the night anyway, and sometimes "Cinemax" just ain't cutting it anymore.
Ladies, more than likely you'll be going out that night with a group of your girlfriends, who will all be super dressed up and ready to drink and dance all night long.
However, one of the girls in the group will either get too wasted and one of you will have to babysit her most of the night; or you'll meet some out of town fellas who will offer you all some blow back at their hotel room and you'll more that likely end up letting them stick it in all three holes at some point in the evening/early morning.
But more than likely you'll end up texting your ex-boyfriend to come over and violate you because you are so wasted (yeah, right).
JUST SAY NO!
Just say no to the bullshit party invites.
Just say no to the nonsense of "buying now before the prices go up" rhetoric. When in fact, that's just a load of crap they tell you so that you can buy tickets earlier.
Just say no to the paying a bunch of money to party at the
EXACT SAME VENUE
you were just at the day before, for free.
In this rough economy, I suggest that you just stay home, save your money and send these venues a message. Think about it.
But hey, its your NYE, do with it what you wish.
This will be my last post, until my next post.