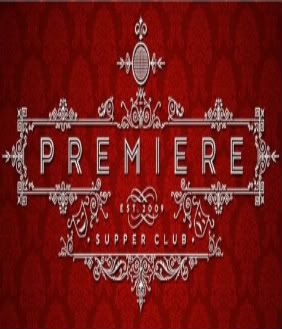 Remember the former nightclub called "Central"? Probably not!
What about the so-called ultra exclusive "Villa" lounge in West Hollywood?
Well, if you have been to "Villa" then you have been to "Premiere Supper Club".
Premiere is the new Hollywood nightclub owned by Villa lounge partner Vinny Laresca (so no wonder why its designed just like Villa, except Premiere is all red inside).
Now, usually when a new so-called Hollywood hot spot opens, its normally hard to get into and packed with people (both inside and out). Not this place.
The problem is, that spot has never been good.
What I mean by that is, when the venue was called "Rok Bar" - total failure.
When it was "Central" - it sucked balls.
Now that it is now called "Premiere", it's set-up and designed like Villa (which is no good), with a Spanish all red theme inside (almost like a bad Mexican restaurant, almost like "El Compadre's" on Sunset blvd), with random movie characters popping out of nowhere, partying with you (wackness).
If I wanted to party with random movie characters in Hollywood, I would hit up the CVS store, buy some bottom shelf alcohol, and party with the fake movie characters, who beg for money in front of Mann's Chinese Theatre on Hollywood Blvd.
Here's the real sad part.....I went there last Saturday night at 1am and the venue was half empty???
Wait, didn't they just open a month ago?
Do they not have, Vinny, Chuck, Tommy Alastra, Shane Powers (former Alliance member, before being kicked out) Suk Sung, and a handful of other promoters there on Saturday night?
And the venue was still barely half way full at 1am on a Saturday night.
What's even worse is that the place is now open four nights a week, with at least ten promoters or more every night that it's open.
Do the math, that's about 40 promoters a week, emailing, texting, bbming, and Facebook blasting you to come to Premiere______________ (insert the night of the week here).
Hell, if you are friends with Tommy Alastra on Facebook, he sent you a personal message to come to Premiere every night that its open....and he (or his assistant) did this two weeks after it opened. Whoa!!!
And don't be surprised if you see Leonardo Dicaprio there (he and Vinny have been best friends since they were 10 years old) and he probably is an investor there.
Their Tuesday night by the way, has been packing people in (its their new house music night).
Also, being centered between Las Palmas nightclub on one side, and Angels & Kings bar on the other can't be that great for your business (I'm guessing).
Oh well (click on the above pic).
This will be my last post, until my next post.