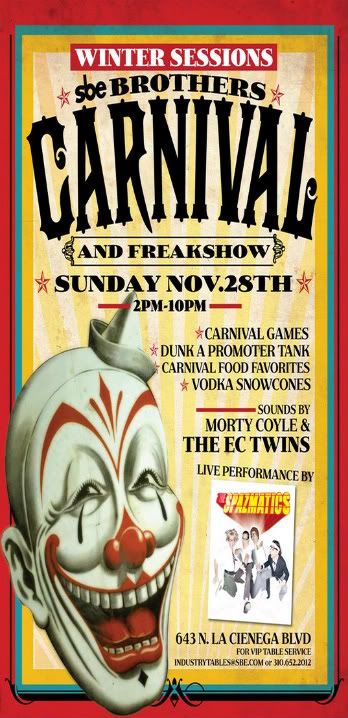 This has failure written all over it.
I know that SBE wants to keep that (Sunday afternoon at XIV) money train moving along, however since that has now come to an end, they have created
"CARNIVAL"
.
For those of you who have eight hours to kill on a Sunday afternoon in a night club (2pm - 10pm), then this my friends is for you.
It's like the SBE management has been reading our minds when they came up with this one.
Who doesn't want carnival games, vodka snow cones, dunk your local promoter contest, as well as midgets (excuse me "little people") walking around touching your private parts, or better yet, you touching their private parts all in the name of some clean carnival fun.
I'm gonna vote no on all of the above mentioned "carni" wackiness.
If you don't want to spend time with the family this holiday season, and you would rather pose for pics and drink with a bunch of clowns (seriously, clowns) then step right up and get that vodka snow cone with a little bit of house music, every Sunday afternoon at "Industry"...oops, I meant "Carnival".
Now as cheesy as this Carnival bullsh*t is, I will give them semi-props for at least trying something new and different. Even though this type of sh*t will bring out the pedifiles and wackos, but who cares, right?
This will be my last post, until my next post.