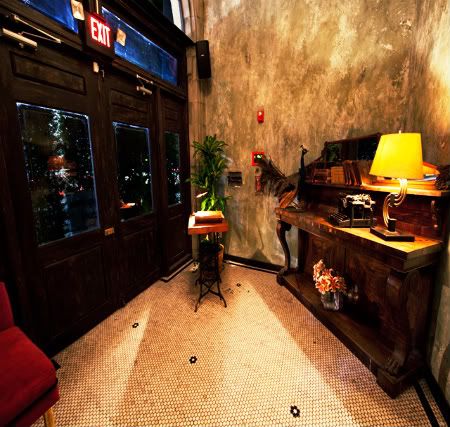 If Ernst Hemingway came to Hollywood today, would this be the place that he would hang out for a drink?
Well, Johnny Zander thinks so.
Johnny is the owner and designer of Hollywood's newest lounge "Hemingway's".
You may remember Zander's past project "Green Door", as well as running Teddy's and the Tropicana Bar at the Roosevelt Hotel.
Hemingway's is a very cool lounge/bar on Hollywood Blvd.
However, if you have been to Green Door, and if you have also been to HWood & Tea Room, then you have pretty much seen what Hemingway's looks like inside.
Like Green Door, as soon as you walk in you are automatically in the smoking patio area. After entering through the smoking patio you then walk into the main room; which looks great (however, I felt as though I've been there before).
The only real negative is its location. Located on Hollywood Blvd between Cinespace and Vice, you will more than likely run into Compton's finest on your way inside on the weekends.
Very easy to get in, just say that you are guests of Johnny and will get you inside.
This will be my last post, until my next post.